Walkthrough explaining the process of domain registration.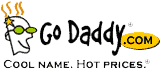 Registering a domain for your site is not a complicated process. However, selecting a domain name may seem on the surface to be just a matter of deciding which word or words to register. Choosing your domain name will play a key role in that other, less conspicuous form of advertising; word of mouth.
Tips
The domain name you choose should be as short as possible. The less characters your potential visitors have to type, the easier it will be to remember for them.
Try to avoid using numbers in your domain name. When your potential visitors hears about your site from a friend, and it has a number in it, they may type the full number out (ex. eight) instead of 8. This can confuse and deter your visitors.
Try to find a domain name that reflects the nature of the business that your company is in or the overall scope of the future website. This adds memorability because the public will associate your name with the business behind the name and be more likely to remember it.
Buying a Domain
Once you have selected a domain name that would suit your site best, you will need to sign up with a domain registrar, like GoDaddy.com. With domains starting at $8.95 a year, GoDaddy is affordable and easy to use.
The most common domain extensions are .com, .net, and .org. Other domain extensions including .us, .biz, .info, and .ws are available, but are more expensive then standard domains. Domains that end in .com and .net are most commonly used by individuals and corporate companies whereas domains that end in .org are most commonly used by non-profit organizations.
Pricing for Domain Registration at GoDaddy
---------------------------------------------------------------
.COM .NET .ORG Domains
1 Year - $8.95
2 Years - $17.50 ($8.75/yr)
3 Years - $26.25 ($8.55/yr)
5 Years - $40.25 ($8.05/yr)
10 Years - $69.50 ($6.95/yr)
------------------------------------------------------------------
Affiliates