Tutorials > Photoshop > An Introduction to Masks and Brushes
In this tutorial you'll be introduced to the three mask types in Fluid Mask, a Photoshop plugin, and the tools used to apply them.
Notice: In order to follow along and try out the procedures shown, you will need Fluid Mask, a powerful new plugin for Photoshop that lets you perform precise cutouts with little effort. It makes cut-outs that were previously almost impossible to do, possible.
Click here for a complete overview of Fluid Mask.
Download a free trial of Fluid Mask so you can complete this tutorial.
System Requirements: Adobe Photoshop 7.0 or higher, Mac OS X 10.2.8 or higher with 833Mhz G4 or higher, or Windows 2000® or above with a processor speed of 750Mhz or higher.
To view the video tutorial, click on the image below.
Warning: The file is about 5MB. To view the file you will need Apple Quicktime.
Download the source image used in the tutorial.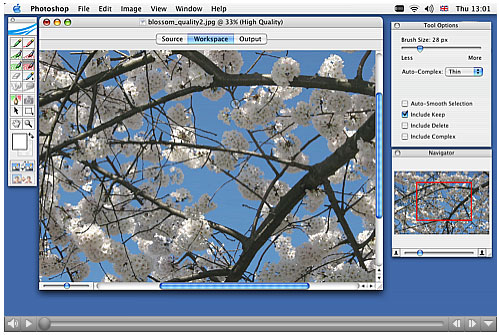 Exclusive Fluid Mask Discount Price - $189 ($10 off)
In a partnership with Vertus Software, we are offering Fluid Mask at the special discounted rate of just $169 - PLUS free upgrades for the next 6 months. This is an exclusive offer for visitors of Depiction. To qualify, visit the discount price page.
Affiliates